Casino Gambling in Florida
Florida has a lot to offer to residents and tourists alike. First, of course, is the weather—there's a reason they call it the Sunshine State, and there's a reason why New Yorkers and other northerners make pilgrimage to Florida every winter. Closely related is the beautiful beaches—and this means both splendid Atlantic coast beaches and fantastic Gulf coast beaches. Disney World is another reason to love Florida, as are the oranges.
On the down side (there is always a down side) are the alligators. Best to stay away from them.
Wikipedia tells us that "Florida has the lowest high point of any U.S. state." Hard to tell if that's a good thing or a bad thing.
And most important from our point of view is the fine Florida casino gambling at top land-based casinos and top online casinos alike.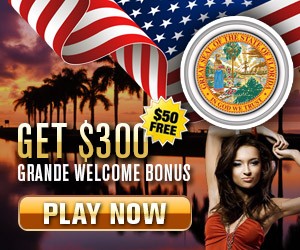 The Best Florida Land-Based Casinos
There are many excellent brick-and-mortar casinos throughout the state of Florida. Here is a look at a few of the very best.
Casino Miami
Don't be fooled by the simple unpretentious name. In fact, there is a lot going on at Casino Miami, home to more than one thousand slot machines along with an electronic table game area featuring digital blackjack and roulette games. Casino Miami guests can also enjoy live entertainment at Club Rio and live Jai-Alai games.
Jai-Alai, of course, is another great Florida attraction. Most Floridians already know about it but, in case you don't, we will tell you that it is pronounced Hi-Li, it is a very exciting and fast-paced sport played with a ball and a basket-like contraption called a cesta, and—like horse racing—you can bet on it. And one of the top Jai-Alai arenas in the entire world is located right here at Casino Miami.
The Big Easy Casino
The Big Easy Casino in Hallandale Beach is a Florida casino that evokes the ambiance and traditions of New Orleans. In addition to more than 700 slot machines, it houses a plush poker room with games of Texas Hold'Em, 7 Card Stud, Omaha, and Omaha Hi/Lo dealt at thirty tables with a wide range of betting limits so that every poker player—from rank beginner to experienced professional—will feel comfortable.
There is, by the way, an interesting history behind the Big Easy Casino. It actually started out as a dog-racing track called Hollywood Kennel Club in 1934. Over time, it added casino games to its repertoire and changed its name to Mardi Gras Casino. Now that dog racing has been banned in Florida, it has been renamed The Big Easy Casino and has devoted 100 percent of its energies into becoming a first-rate casino. And it has succeeded admirably.
Seminole Hard Rock Hotel & Casino Tampa
Owned and operated by the Seminole Native American tribe, the Seminole Hard Rock Hotel and Casino Tampa is one of the largest and most successful casinos in the world. It has more than 4,000 slot machines, 138 table games, and 46 poker tables, along with a luxurious hotel, lavish restaurants, world-class entertainment, and amenities like pools and spas and fitness rooms along with displays of the world-famous Hard Rock music memorabilia collection.
This is clearly the top casino in Tampa and the surrounding area and, being only 88 miles from Orlando, and since there are unfortunately no Florida casinos in Orlando, it is a top casino destination for Orlando residents and Disney World visitors as well. It is, indeed, one of the top casinos not only in Florida but in the entire world.
The Best Online Casino for Florida
There are a number of criteria that must be considered when searching for the best online casino for Florida. These include both the variety of games and the quality of the games, bonuses and promotions, and security and customer support. Viewed objectively, when keeping all of these important criteria in mind, it is clear that Grande Vegas casino in Florida is the best.
Grande Vegas has hundreds of great casino games, including slot machines, video poker, roulette, blackjack, and a whole lot more. And every game employs top graphics, sounds, and animation along with ultra-smooth game play and real money prizes to give you the very best online gaming experience.
Grande Vegas casino in Florida gives you a Welcome Offer that combines a $50 Free No-Deposit Bonus with $250 in Match Bonuses and 50 Free Spins on a select slot machine to create the best basket of bonuses in any online casino for Florida. And after you finish with your Welcome Offer, Grande Vegas will continue giving you great bonuses, promotions, gifts, and casino rewards—every month, every week, and every day.
And don't worry. Grande Vegas employs state-of-the-art security technology to ensure that all its games are fair and that your casino account is safe from hackers and thieves. Enjoy the games with total peace of mind and remember: if you have any question or concern about anything at all, you can always contact us. twenty-four hours a day, seven days a week, by phone, email, or live chat, our Customer Service Representatives are there for you—friendly, knowledgeable, and always happy to help, they are a big part of why Grande Vegas Casino in Florida is considered the best.