GRANDE BLOG
Welcome to the Grande Blog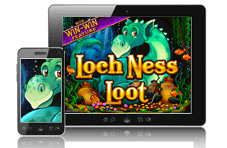 Details
Beneath the waters of Loch Ness, lies a hidden treasure trove waiting to be discovered, and it's all right there in your own phone. Get on your Mobile Casino, and be sure to 'keep the heid', because here comes Loch Ness Loot, your old favourite 25-line slot game from Realtime Gaming!
Trigger the feature and win 8 free games with PRIZES DOUBLED! What's more, any 'Lochies' that you spot during free games will expand to cover the reels!
But, haud yer wheesht, that's not all! Loch Ness Loot from Grande Vegas Casino, also offers the unique Win-Win feature, so even the smallest feature win will be transformed into a legendary prize!
Play now in our Mobile Casino, or Grande Vegas Instant Play.
'Lang may yer lum reek!' (that's Good Luck to you and me!)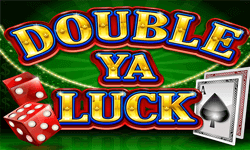 Details
With classic sounds and nostalgia hanging on each of the 3 reels, the new slot game on its way to Grande Vegas Online Casino is one to look forward -- and back -- to. Be ready to get whisked back to the good old days when Realtime Gaming (RTG) brings you a new 3-reel slot game inspired by the slots from back in the day, but they've spiced it up with a great new take on some proper classic gaming.
There's even a progressive jackpot to boost your happy memories. So get on some old-school tunes, crack out your lucky t-shirt and get ready for some proper fun -- just like you had before you had to grow up.
Keep your eyes peeled -- it'll be here before you know it!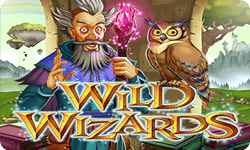 Details
Lo, yonder! The season's Grande Vegas magic approaches!
Brewing up a storm, the Realtime Gaming (RTG) elves have toiled night and day, conjuring up a gift for life – not just for Christmas. For you on Grande Vegas Online
Your fantastic new quest is Wild Wizards, an enchanting five-reel slot for you to download or obsess over on instant play, with features as long as your broomstick. All year!
Look out for the animated Book of Spells, which scatters to multiply your bet up to 2,500x your total bet and adds to your win lines.
The Wild Wizard substitute triggers a world on fire with features: piles of free games, Held Expanding Wilds, Mad Magic Multipliers, bonus symbols and extra wilds.
In normal games, features from Sorcery to the Wizard's Tower, Polymorph to Fireball or Mad Magic fire up when a Book of Spells appears on reel 1 with a Wizard on reel 5. 
Get captivated by the Sorcery that treats you to 10 free games and an extra Wizard before each spin. Or hunt down the Polymorph Feature to magic up 1, 2 or 3 bonus symbols. Play the Polymorph's 7 free games, during which any of the bonus symbols that appear will morph into a Wizard. If a little hocus-pocus crosses your path, you could trigger 7 extra games, free. Nearly all features can retrigger free games within the feature – magic within magic within magic. Never-ending incantations from the Grande Vegas warlocks!
Crammed with bewitching features and graphics, Wild Wizards will enchant you for months to come.
Check out the Grande Vegas Online Casino Message Center or your email for extra magic treats to make your Wild Wizards even better.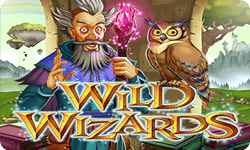 Details
As you read this, the Real Time Gaming Wizards' cauldron is bubbling away with a fiendish brew of five magic features, a bewitching theme and spellbinding graphics.
Brews like this take time, and that time is nearly up. Just a little longer to wait.
Dig out your crystal ball and dust off your broomstick for RTG's mystic NEW GAME. 
Check for fiendish surprises in your email or Casino Message Center and be by your cauldron to let your imagination run Wild Wizards in the download or instant play fun at Grande Vegas Casino.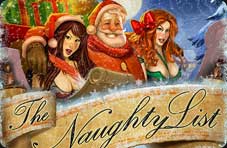 Details
Who'd have thought being on the naughty list could make anyone this happy?! 
Real Time Gaming's brand-new game filled with Christmas fun, The Naughty List, just made Jane D a very happy lady. $65,389 happy.
She rummaged through a whole stash of glitzy presents to track down the Naughty Notes to get free spins and Santastic FREE SPINS. She worked her way through instant prizes galore to make this Christmas one to remember – the Good List is SO last year.
Get your name on The Naughty List! Download, Instant Play AND play Grande Vegas Mobile on your cell and listen out for those jingling bells that might just get you on The Naughty List.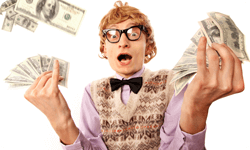 Details
It isn't just the beauties over on Naughty or Nice that has made Andrew W's Christmas. On his mobile Grande Vegas Casino, things started hotting up when he was happily hunting down the scattered Naughties and Nices and making that tough decision whether to go naughty or nice for the bonus, when Christmas took a turn for the Grande.
With a bauble-jingling $47,928 now in his coffers, Andrew W's Christmas will be sizzling.
Want a piece of the action? Play in the Grande Vegas Mobile Casino and look out for Santa's sexy helpers. Bet up to $5 per line and pick your play lines – up to 50! – with the arrows then SPIN.
Make the right decision – Naughty or Nice – and get TEN FREE GAMES and DOUBLE THE PRIZE if one or more of Santa's sexy helpers appear in a winning combo.
So what are you waiting for? You could be the next Andrew W!