GRANDE BLOG
Welcome to the Grande Blog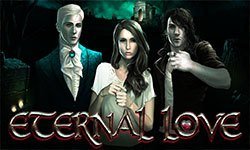 Details
2016 has really sunk in and Realtime Gaming is making sure that Grande Vegas Casino players have a lot of new games to play and new ways to win. One of those new games is a release that is sure to warm the hearts of everyone who plays on the instant play, mobile and downloadable casino. Titled Eternal Love, the game has not been fully revealed yet and RTG is keeping its lips sealed tight about what kinds of fun and exciting features this game will have, but we are pleased to announce that we got the scoop on just a few of the features you can expect to see.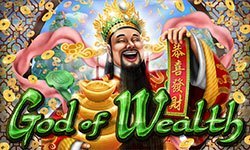 Details
With 2015 about to come to an end, you may be wondering what 2016 will have in store for you. Well, we've got great news because Grande Vegas Casino is going to have a new online slot available for you to play very soon, namely, God of Wealth. This Realtime Gaming release will have a number of fantastic features including a bonus round, free spins, a randomly triggered progressive jackpot and much, much more. With 25 paylines spread over five reels, you'll have a great time trying to get the symbols to line up in this beautifully designed and well-thought out online slot.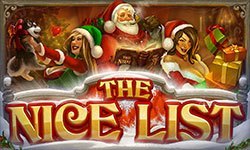 Details
It's that time of year again, time to take a long, hard look in the mirror and ask yourself - have I been naughty or have I been nice?
Luckily for you, here at Grande Vegas Casino, we think you've been nothing but nice - and to celebrate, we're giving you the chance to win big with another fun-filled festive slot from Realtime Gaming - The Nice List!
What would you like for Christmas? How about huge multipliers and Extra Wilds? Well, find three Scatters to trigger one of two features – including the festive Present Pick Feature - and they could be yours!
Think you've been nice enough to deserve more presents? We do too, so find Santa as a grouped Wild and all symbols pay adjacent from Left to Right - except scattered Nice Lists, which pay Any. But that's not all, your stocking is full to the brim this year, as we're even throwing in the random Lucky Feature – which may also trigger at the end of any normal game – which may shower you with gifts, including TEN FREE SPINS AND A 10X MULTIPLIER!
This year, Santa has already made his list, and checked it twice - and he found that you've been very nice! So, what are you waiting for, find your festive cheer and play The Nice List on Download, Instant Play, Mobile today!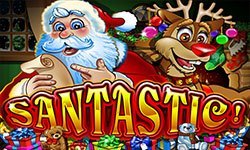 Details
Shhh! What's that sound? It's Santa sliding down the chimney and straight into the palm of your hand, as the fun-filled festive slot from Realtime Gaming - Santastic - wings its way to your mobile! 
Yes, holiday's are coming, and you can trust Grande Vegas Casino when we say this one is going to be a cracker - packed with bonus prizes, jackpot spins and a chance to hit the big one in this festive folly! Grab yourself some Christamas cheer in this santastic-slot with a prize meter twist - which you can activate any time you spot 3 of a kind symbols on a played line!
Walk in a winter wonderland and play Christmas slots in the palm of your hand, with Santastic - available to play on your MOBILE NOW!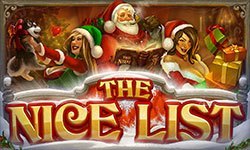 Details
....he's gonna find out who's naughty or nice!
You'd better not have been naughty this year, because ho, ho, here comes... The Nice List - a brand new festive-folly from Realtime Gaming!
This slot has everything you need to get into the Christmas Spirit... Spot Santa as a grouped Wild, and all symbols pay adjacent from left to right - except scattered Nice Lists, which pay ANY! And as if that wasn't enough of a present - three scatters trigger one of two festive features, including the incredible Present Pick Feature, complete with HUGE MULTIPLIERS AND EXTRA WILDS!
Need more festive cheer, well, you're in luck! A Lucky Feature may also trigger at the end of any normal game, leaving behind up to 10 FREE SPINS and a 10X MULTIPLIER under your tree!
Warm up for the winter with a big cup of Christmas cheer, by playing this super-Santa slot in your favourite online casino - Grande Vegas!
The Nice List is available to play in the Mobile Casino or via Download and Instant Play from November 18!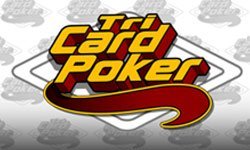 Details
Take traditional poker. Sure, it's fun, but, boy, can it take a long time. Tri Card Poker on Grande Vegas is heart-stoppingly quick, which is maybe why it's been so popular on Grande Vegas Instant Play and Download.
Well, now if you need poker and you need it now, all you have to do is reach for your phone. That's right: Tri Card Poker has joined Grande Vegas Mobile Casino. And not a moment too soon.
So what makes Realtime Gaming (RTG) Tri Card Poker so popular?
It's very nearly the same game as regular poker, just faster, and you only have three cards. You pit your hand against the dealer's hand, and whoever has the best hand, wins. Simple as that. And not a green poker visor in sight. Just good, clean, very-fast fun.
Learning to play, playing and winning are all incredibly easy, and now Tri Card Poker is on Grande Vegas Mobile Casino, it's all even easier. There are two super-simple bets:
Ante Bet: you bet your hand is better than the dealer's
Pair Plus Bet: you bet there'll be a pair in your hand
 And to add to the fun – the dealer can only play with a queen or higher. Enough reading – grab your phone and play.
Details
The wizards at Realtime Gaming (RTG) have been brewing up their next kettle of bewitching 5-reel fun. And Grande Vegas Casino, has worked some supernatural magic and Bubble Bubble, the new game, will join the Grande Vegas coven on October 14. 
Be ready for a whirlwind of action around the whimsical Winni the Witch and her mischievous ghostly ghouls, ready to invade at any moment. Reels could turn wild, features could pop up at any turn, this is going to be a slot to keep you on your toes.
Details
Are you ready for a scare? Well Realtime Gaming (RTG) has conjured up a brand new creepy cartoon Halloween treat, so get your freak on and head over to Bubble Bubble, available at Grande Vegas on Instant Play, Download and Mobile Casino.
Winni the Witch and her wiley ways will have you in a wicked spin in this spooktacular video slot with ghostly features. Creeptastic cauldrons scatter left and right spilling their brews, creating features galore.
The Great Ghosts feature will whirl you into a world of 20 FREE spins while the nine Wild Ghosts whiz every which way on every spin.
Wander into Winni's Wild Witches feature for a wickedly wild ride and be Bewitched by 7 FREE spins when the Wild expands across the middle reel for all spins.
Winni and her coven are waiting. The brew has Bubble Bubbled and it's time to take her on.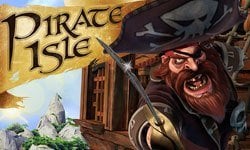 Details
Piles of plunder and five-reels of riches await Grande Vegas Online Casino buccaneers brave enough to set foot ashore Pirate Isle from Realtime Gaming. For decades, Cap'n Ghost Pirate has stashed his treasure across Pirate Isle, but one night on the grog and the bungling blaggard dropped his Treasure Keys all over the infamous island.
So he's called a truce. He'll share his booty with any buccaneers brave enough to help him track down the legendary loot. Shiver me timbers, it's ripe for the picking.
Those spoils won't come easy, but, land lubbers, when you get them … cor!
Gather 5 Treasure Keys, and you'll have a haul greater than you've seen before. 5 Treasure Keys equals 300 FREE GAMES.
Place an extra bet to release the Broadside Feature, home of the Pirate's Treasure Progressive Jackpot.
Stumble across the Treasure Chest Feature, when 3 or more Treasure Chests glint across the reels in any normal game, and reveal a treasure map. In 5 places on your treasure map is the lost bounty. But where does X mark the spot? Pick 5. Target a Treasure Chest on the map and be rewarded with another pick. Target a Treasure Map for a new round of picks. Target the Ghost Pirate and he'll grant you 100 FREE SPINS. Not so terrifying, is he!?
Up with the Jolly Roger and in with booty. Pirate Isle, 'ere we come! Available to download and on Instant Play from September 16.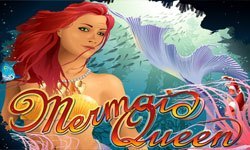 Details
Dive into the mysterious blue ruled over by the beautiful and benevolent Mermaid Queen at Grande Vegas Mobile Casino.
Now, wherever you are, you can follow her bewitching harp into the deep to her enchanting queendom, using the Mobile Casino. The Mermaid Queen and her mystical underlings will draw you towards handsome treasures beyond your wildest dreams. Just win her favor and those riches will be yours.
Clams scattered across the ocean bed make your prizes multiply, and the Mermaid Queen appearing in your winning payline doubles your reward.
The alluring, animated Mermaid Queen has charmed the Clams in the FREE GAMES feature, so they double your luck, giving you another free game each time you spot a Clam. And at the end of any given game, the Mermaid Queen, in all her compassion, could give you a final reward: the Random Progressive Jackpot.
Mermaid Queen is available now on Grande Vegas Mobile Casino. Time to dive in!