GRANDE BLOG
Welcome to the Grande Blog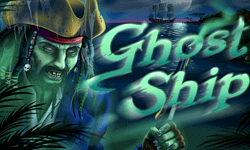 Details
Land ahoy - the Ghost Ship is on its way!
Grande Vegas Casino brings you a ghoulish new slot from Realtime Gaming - Ghost Ship!
Drop your anchor and stare deep into the murky depths, for there lies treasure and riches in abundance! Your bounty won't come easy though as the ghostly crew jealously guard their loot from beyond their watery graves!
Spot a Ghost Captain Wild or Ghost Ship Scatter and Ghost Captains may fill the rest of the reel that they appear on. And once you've plundered your way to a free game, the ghost captains will fill the entire reel!!! Wait land lubbers, for there be more! With 2 free games awarded for every Ghost Captain or Ghost Ship symbol appearing anywhere on the triggering game, there is plenty of bounty waiting to ready to be pulled ashore!
So on 19th March prepare to sail the seven seas and claim your treasure…….. that is of course – if you are not too scared!!!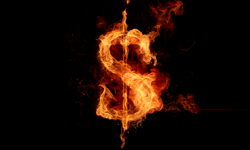 Details
Daylight savings is at end, the nights get longer and the skies stay brighter. It seems a shame not to make the most out of this bonus day-time, so here are some things you can do to get more from those last few hours of light!
Make a picnic – Pack up your favorite food and drink, grab your friends and head to your nearest park for a spot of al fresco dining.  As well as being a great excuse to dust off the old picnic blanket, eating outside can be a great way to relax, and truly enjoy what you're eating. Why not leave the phone at home and connect with nature instead – that game of Angry Birds can wait til you get home!
Go for a walk – Once you've finished your feast, why not go for a walk? You'll be glad you did. Not only is walking a great way to stay in shape – in helps to prevent heart disease and arthritis – but it's great for the mind too! It has been known to help with memory function and boost creativity, as well as reducing stress. But the best part? It's free!
Hit the pub garden – If all that exercise sounds like too much hard work, then forget the journey and focus on the destination – the pub! What better place to spend a cool, light evening than in the pub garden, with a few friends and a nice cold drink!
Do something different – maybe you don't fancy the more traditional outdoor pursuits, well in that case – do something different! Work out, paint something, cook your dinner, watch a film – play your favorite Grande Vegas games on your mobile? Whatever you do, find any excuse to spend more time outside!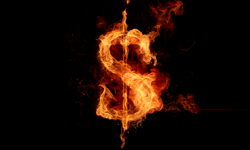 Details
Grande Vegas Casino slots paybacks were eye-popping in February with Voodoo Magic chucking out an heart-stopping 128%, Texan Tycoon threw down a tantalizing 125.3 % and Achilles, an amazing 112.9%.  
These badboys – the hottest games in February – just couldn't stop showering the winnings on Grande Vegas slot players. Winner after winner, and they kept coming back for more.
Head over to Grande Vegas Casino for a piece of the pie because this is a winning streak you want to be a part of. Who knows which of the slots will pay big in March … will it be your old favorite, or will it be that one game you've not tried before.
Give them all a go and see you name in lights over on the winners' board.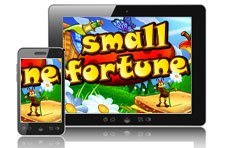 Details
They're on your apple and on your pear! All these Ants, they are so great! Can you see them crawling on your plate?!
That's right, this is one time you will want Ants at your picnic, as they are carrying HUGE PRIZES to your mobile picnic table in the amazing new slot from Realtime Gaming -Small Fortune - now available in our Mobile Casino!
Spot the cheeky worker ant WILDS with a picnic basket in between and trigger the FREE SPIN FEATURE! The more ants and baskets onscreen when the feature triggers, the more powerful your feature will be!
So get in quick and enjoy your feast – there's nothing small about this fortune, and it's waiting for you on your mobile NOW!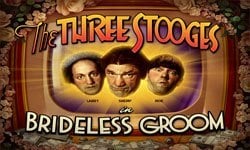 Details
...The Three Stooges: Brideless Groom from Grande Vegas Casino!
That's right, Larry, Moe, and Shemp are here and they are searching for their bride! Help them find her in this wacky new slot from Realtime Gaming to trigger zany RE-SPINS and STOOGE PICKS FEATURES!
Help find the pieces of their broken hearts to collect BIG PRIZES and start your FREE SPINS!
But that's not all knucklehead, the latest installment of the The Three Stooges series brings you MUCH MUCH MORE! 
Pick a TV in the Stooge Picks Feature and get ready for FREE SPINS, MULTIPLIERS and a trip through the WHACKY WILDS. Once you've recovered, it's time to put on your best suit, pop some bubbly and get ready to celebrate as you randomly trigger up to 33 Lucky Stooge Spins instantly at the end of any normal spin with all WILD STOOGE PRIZES TRIPLED!
So don't be a wise guy! Play The Three Stooges: Brideless Groom on Download and Instant Play TODAY!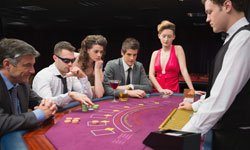 Details
Have been getting the true Vegas experience from Grande Vegas Casino, with our…LIVE DEALER TABLES? 
Play all your card favorties - including Blackjack, American and European Roulette, Baccarat and Casino Hold'em, with various betting limits to suit you! Feel the thrill of being at a live table, take your time to plan your next move and chat with other players between hands - it really is just like the real thing!
Don't mess around with computer generated cards, get the real dealer experience right through your computer screen!  Our live dealers will congratulate you on your winnings as you sit in the comfort of your own home – you don't even need to get dressed!


You can access the new live dealer casino games by clicking the Live Dealer button in the Grande Vegas Casino lobby.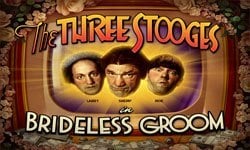 Details
It's time to play The Three Stooges: The Brideless Groom from Grande Vegas Casino!
Larry, Moe, and Shemp are on the lookout for a bride in this wacky new slot from Realtime Gaming - The Three Stooges: Brideless Groom! Help them find her and reap the rewards by triggering the zany RE-SPINS and STOOGE PICKS FEATURES!
Pick a TV in the Stooge Picks Feature and get ready for FREE SPINS, MULTIPLERS and a trip through the WHACKY WILDS! Once you're there, help The Three Stooges put their broken hearts back together to collect BIG PRIZES and start your FREE SPINS!
That's not all! Randomly trigger up to 33 Lucky Stooge Spins instantly at the end of any normal spin with all WILD STOOGE PRIZES TRIPLED!
So don't be a knucklehead, put on your best suit, pop some bubbly and get ready to celebrate with The Three Stooges: Brideless Groom coming this Wednesday!
Details
Fancy a bit of that Texan hotness and wealth right here in your own home? Well you're in good company!
The most-played game in January on Grande Vegas Online Casino was the five-reel Texas Tycoon, still available as Instant Play, on your mobile or to download, with its autoplay feature, so the reels spin and you can sit back and watch the wins stack up.
So head over to the heart of cowboy county, let in your inner magnate out to play. Head off, cigar in mouth and ten-gallon perched high, on your quest for gold … or oil.
Because oil is the name of the game.
When you hit the Oil Well scatter symbol, stride your way into the free game feature and win up to 25 free games, where all prizes are tripled. TRIPLED. This is proper Texan Tycoon stuff.
The wild symbol, a Texan Tycoon grinning in front of his oil field, appears in a winning combination to earn you game multipliers of up to 10x.
Take the luxury into February. Remember with just two deposits between February 1 and 12 , Grande Vegas Online Casino will give you a Valentine's no-deposit bonus of $140 on February 13.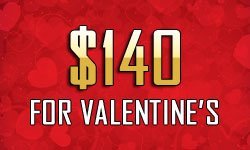 Details
Yeah, money can't buy you love, we all know that. But it sure can help you on your way to
a. feeling happy, and
b. buying something pretty amazing for your Valentine
So Grande Vegas Casino wants to help you out. The first bit is for you, to make you happy:
Grande Vegas Online Casino is going to email you a whopping $140 no-deposit bonus on February 13, just in time for you to play it and win more than enough for your Valentine's dream come true – and a meal out.
All you have to do is make two deposits between now and February 12 and the $140 no-deposit bonus is YOURS.
Then you need to work out what pretty amazing thing your Valentine would like. Don't worry – Grande Vegas Online Casino is here for you, again! (Man, we're good to you!)
Here are five pretty amazing suggestions. Five for the girls, five for the boys.
Girls love …
Diamonds. That's given, and of course it's at the top of the list. The most expensive diamond is the Koh-I-Noor diamond, which is officially priceless – just to give you an idea, the third most expensive is the Cullinan, which is $400million.
Go bang on trend and get her a pendant – she'll love it!
'Oh I can't stand roses and champagne,' said no woman, ever. It's a solid, traditional standby, but they really are lovely.
Go super soppy and a date jar. Get popsicle sticks of three colours. Red: write expensive dates (rent a sports car for a day, go on a city break). Green: write less-expensive dates (picnic on the beach, take out a row boat, go to the drive-thru). Yellow: questions to ask each other about your lives (who was your favorite teacher at school, what was your first ever vacation). Stick all the popsicle sticks in a mason jar and reap the rewards.
Cake a month. Make her favorite cake and promise she'll have one on the 14th of every month.
Boys love …
Arrange a ride in a speedboat – or buy him a speedboat.
An actual real lightsabre. Sure it's geeky, but there's not a guy out there that wouldn't love one.
XXXopoly. An adult version of Monopoly. Enough said. Over to you.
Noise-cancelling headphones (and a promise to leave him in peace to enjoy his new-found man cave).
Fighter pilot for a day. You're welcome.
 So you have your Valentine's gift idea sorted. Now get over to Grande Vegas Casino and make your first deposit. Remember – you just need to make two and your $140 no-deposit bonus will be in your inbox on the 13th.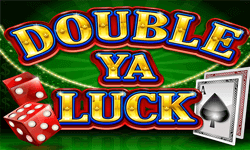 Details
At Grande Vegas Casino, we know there's only one thing luckier than being lucky, and that's being DOUBLE LUCKY! That is exactly how you will feel when you play Realtime Gaming's (RTG) brand new 3-reel slot, Double Ya Luck!
The dice symbols trigger the onscreen board game feature – giving you another chance to win INSTANT PRIZES, as well as free games, 3-of-a-kind wins, and of course our legendary PROGRESSIVE JACKPOT!!!!
Double Ya Luck features all the classic casino symbols and nostalgic sounds that you know and love. But what's more… it also brings a new twist to the much loved 'Gamble' FREE GAME FEATURE – giving you the chance to win free games and multiply your prizes by picking RED or BLACK!
So if you fancy a bit of nostalgia, but with double the luck, play DOUBLE YA LUCK now with Grande Vegas Instant Play!